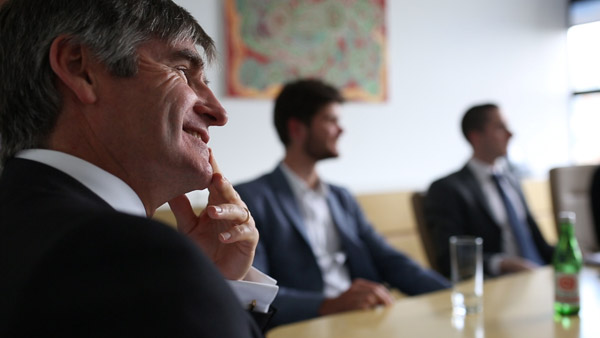 Social Enterprise Program
The Social Enterprise Program is a free 12-week competition among tertiary students in Australia that aims to develop the skills of entrepreneurship and innovation whilst raising funds to assist homeless people internationally. Candidates who are successful in their application to participate in the Program are required to develop and execute a business plan in assigned teams of two (2) or three (3), along with the support of industry professionals, to sell On My Feet branded running socks.
The Program is currently offered to university students in New South Wales, Victoria, Western Australia and Queensland.
How does the Program work?
Step One: Build a Business Partnership
Candidates who successfully apply to compete in the Program are partnered together to form five (5) teams of two (2) or three (3) within their State of residence. Where possible participants are partnered with a student from the same university.
Step Two: Gain Industry and Professional Support
Each team is supported by an industry professional at key stages of the program who connects students with other professionals and helps teams prepare and execute a business plan.
Step Three: Prepare a Business Plan
At the start of the Program each team is provided with, and expected to sell, a minimum of 100 On My Feet running socks. Teams are not provided with a marketing budget or any marketing materials in order to encourage reinvesting and entrepreneurship. Students must work in their teams, to draft a business plan for selling as many On My Feet running socks as possible during the Program. Each team is provided a template business plan which is to be completed and submitted to their co-ordinator by Week 3 of the Program. Teams then present their plans to numerous industry professionals, receiving feedback and advice.
Step Four: Execute a Business Plan
Once teams have submitted their business plan they then have nine weeks to implement their ideas and strategies. Teams are connected and supported in executing their detailed plans to target big and small businesses, communities and individuals.
Step Five: Be Adaptable and Innovative
Unforeseeable developments will require teams to pivot from their original plans and be innovative. Industry professionals will assist teams through this stage of the program, employing their experience and knowledge.
Step Six: Be Rewarded
Teams in each state will be awarded for outstanding performance during the Program. Awards are presented to student teams who: generate the most revenue, sell the most socks, develop the best business strategy and, invest the most effort.
Have a question? Visit FAQ
Who are the Industry Professionals?
They are experienced and credentialed professionals from some of Australia's largest corporations in areas such as Accounting, Advisory, Banking, Legal, Management and Marketing. The industry professionals offer students an invaluable 'real-business' perspective as well as professional connections who can assist teams in executing strategies.
Benefits to Students
---
The Social Enterprise Program is a unique opportunity for tertiary students, that provides participants with an array of tangible and long-term benefits. Please see below for further details on what you could get out of the Program.
Practical Business Experience
Plan and run your own micro-business without the risk usually associated with business-ownership.
Guidance, Support, Networks
Be guided by an industry professional in key stages of the program; access their experience, perspective and connections.
Attract Employers
Separate yourself from the crowd when applying for internships and graduate positions by adding this experience to your CV.
Community
Develop community awareness and help homeless people get back on their feet.
Deals
Plan and execute strategies that involve dealing with both large and small businesses.
Raise Funds
All funds raised are directed to On My Feet to assist homeless people in Australia and South Africa.
The Social Enterprise Program offers participants a unique opportunity to develop skills and gain experiences that are not usually offered at university. But don't take our word for it – see what past participants have to say about the Program by visiting Student Testimonials.